I haven't made very man posts this year regarding the Razorback basketball team.
One reason is this is quite possibly the most frustrating team to follow I have ever watched.
They are consistently inconsistent and at their play is all over the map.
One game they are up, one game they are down.
You just never know what you will get from game to game with them.
However, there has been one extremely bright spot for this team.
There is a player on the team that is my favorite player probably to done a Razorback jersey in quite some time (probably since #55 Derrick Hood).
That player would be #21 Patrick Beverley.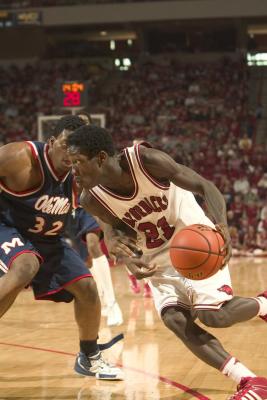 Here are his stats for this year:
Avg Minutes Per Game: 34.3
Field Goal %: 47.8
3-Point FG %: 44.4
Free Throw %: 83.0
Rebounds: 4.5
Assists: 88
Turnovers: 59
Steals: 52
Points: 14.3
Those are from a TRUE freshman in the SEC.
Not only does he put up those numbers, but he also has the attitude you just crave in a college basketball player.
He is enthusiastic, charismatic, very coachable, always got a HUGE grin on his face, has endless energy and gives 110% on every single play.
Beverley alone has made this team "bearable" this year.
I thank you Mr. Beverley.